Annette Voll, Master Violin Maker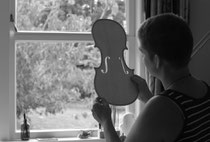 I am fascinated by the creation of a new instrument as much as the challenge of restoring an old, treasured one. After many years of working in different workshops I have gained a wealth of experience in diverse repair and restoration techniques as well as set-up and bow work. At the same time I've continued to make new instruments, both modern and baroque.
I always knew I wanted to work with wood. I grew up in Germany and while learning the cello first visited a violin maker's workshop. I loved the atmosphere, the smell of varnish and polish, the tools and the wood shavings. This was what I wanted to do! After gaining my "Abitur", I did my training at the world renowned violin making school in Mittenwald, a town nestled in the Bavarian Alps. Studying in Mittenwald was like stepping back in time: Germany still has the old Guild system with apprentice, journeyman and master. In the violin making school tradition reigns supreme. Each student is painstakingly instructed in all the aspects of the century old arts of woodwork and varnishing.
Experience:
1990-1994      Violin Making School, Mittenwald, Germany.
                       Journeyman's Certificate
1994-1996      Willem Bouman & Son, The Hague, The Netherlands.
                       Focus: repair/ restoration
1996-1997      Noel Sweetman, Cambridge, New Zealand.
                       Focus: making
1998-2002      Stringed Instrument Company, Auckland, New Zealand.
                       Focus: set-up, repair/ restoration
2002               Master's certificate, Mittenwald/ Munich, Germany.
2003-2005      Max Möller & Son, Amsterdam, The Netherlands.
                       Focus: bow work, repair/ restoration
2005-2009      Ulrike Wiebel, Leiden, The Netherlands.
                       Focus: repair/ restoration, set-up, sound adjustments
Since 2010     The Violin Workshop, Auckland, New Zealand.