Restoration of violins, violas and cellos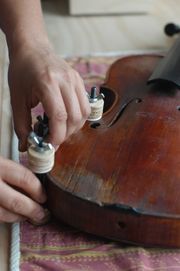 Because no one instrument is alike, and because each maker has their unique way of working, the violin maker has to be very flexible during the restoration process. To be able to restore an instrument in an unobtrusive way, the restorer must free himself from his or her own working technique and work in the original maker's way.
With many years of experience and a thorough training I can work flexibly and look for the best solution for every restoration job. Regardless of how big or small the task is, the welfare and the preservation of the instrument has to take first priority.